Bucket HATS
2021-04-07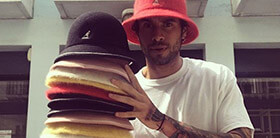 Bucket Hat took the streetwear world by storm last year, and every respected fashion brand has it. Judging by their offer for the coming season, it does not seem to change any time soon. Hence, we dealt with the most fashionable headwear in our weekly review of the most interesting products available on bludshop.com We have already written about the leading producer of hats, and not only the type, which is undoubtedly the British KANGOL, on the blog HERE, and we have the most of this brand of buckets, hats and caps in many colors.
W poniższym zestawieniu nie mogło ich zabraknąć. Uzupełniliśmy je tylko o te od topowych, światowych brandów, takich jak: OBEY, COLUMBIA, THE NORTH FACE, HUF, VANS, FILA czy NIKE a także rodzimych producentów jak choćby MASS DENIM i EVERYDAY HOLIDAY.
Choć rodzajów bucket hat jest mnóstwo, propozycji nie mniej to zerknijcie na te przygotowane przez Nas dla Was TOP 9 kolorowych kapeluszy na wiosnę / lato 2021. Oto one:
Prostota – jeden haftowany logotyp osadzony na materiale bawełnianym o finezyjnym kształcie, kwintesencja marki ze swoosh'em.
Opcja dla niezdecydowanych podróżników – dwustronny bucket hat polskiego brandu kojarzącego się z wszelakim wypoczynkiem w ciekawych miejscach a więc EVERYDAY HOLIDAY.
Lekki, chroniący przed nadmiarem słońca kapelusz, który łatwo zmieścicie w swoim ekwipunku, który spokojnie można zawrzeć z niejednym z dostępnych online plecaków outdoorowej marki jaką jest amerykańska Columbia.
Limonka to nie tylko świetny dodatek do napojów latem ale i świetna kolorystyka, której ujście znajdziemy w zmieszanej z białą barwą szachownicę. Mocna rzecz, bez której ciężko sobie wyobrazić wypoczynek na plaży, nawet tej miejskiej.
Legenda polskiego stretwear'u a więc MASS DENIM uderza pastelowymi, niezwykłymi odcieniami w swoim kapeluszu ZONE. Klimat ciepłych plaż, pelikanów, wszechobecnego słońca i można śmiało śnić o wygrywaniu życia w strefie niezwykłego komfortu.
Unikalny kamuflaż od ikony jaką bez wątpienia jest HUF. Idealna propozycja dla wszystkich mieszczuchów skorych do weekendowych wypadów za miasto z ekipą. Gwarantuje skuteczne maskowanie w terenie.
Odjechany, hipnotyzujący wzór w kratę koloru żółto – granatowego. Opcja dla zdecydowanych i chętnych się wyróżnić poprzez oryginalność swoich akcesoriów. Dla mniej odważnych wersja w kolorze – czarno-szarej.
Motyw znany z bandany, do tego patchworki to coś co zdecydowanie wybijało się ostatnio w świecie streetwearu na całym świecie. Oto propozycja łączenia obu tych stylistyk w przypadku barwnego bucket hat marki.
Kolor blok wraca już nie tylko na bloki po niezwykle ciepło przyjętej modzie na takie wzory znanej starszym klientom z lat 90-tych ubiegłego wieku. Młodzież chętnie zaadoptowała kolory i brandy, które wtedy błyszczały nie mniej niż dziś. Tutaj propozycja od jednej z nich – FILA.