Joaquin Phoenix's best acting
2019-10-04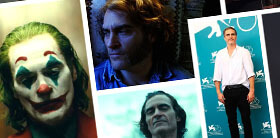 Today the movie Joker enters the cinemas, in which Joaquin Pheonix plays the main role. Critics say before the film even entered the silver screen about its outstanding creation. We are absolutely not surprised because examples of the actor's exceptional talent have not been lacking in his career so far. Below we present three in our opinion outstanding creations of the above.
"HER" – 2013
The story of a writer in solitude who, thanks to a newly purchased operating system, dreams of fulfilling each of his fascinations. A picture of hunger for closeness satisfied by technology that replaces the existing relationship pattern, previously based on feelings.
I'M STILL HERE – 2010
Joaquin Pheonix about himself, overwhelmed by his career so far, the burden of being an actor. Also about looking for other forms of expression, complementing oneself and being in opposition to the past, even if it was bright. An outstanding universal cinema.
WALK THE LINE – 2005
The story of the genius of contra music was regarded as such by Johhny Cash and his attempts to reconcile stage life with building a family life with another star - June Carter! The actor received an Oscar nomination for his role in this production.
Supporting, episodic roles had a lot, but there was always the impression that he was created for bigger things thanks to the game he offered. Fortunately, Hollywood has appreciated the potential of it.