Kup, sprawdź, zapłać później - to takie proste!
2020-01-14
​ ​
​
Kup, sprawdź, zapłać później -
to takie proste!

​
Co to jest i jak działa Twisto Pay?
Twisto Pay jest jedną z najwygodniejszych metod płacenia za zakupy. Twisto opłaca Twoje zamówienie, a Ty masz 21 dni, aby płatność uregulować bezpośrednio z Twisto.
Co zyskujesz?
Zakupy z Twisto są doskonałą opcją, gdy na koncie chwilowo nie masz środków. Za zakupy możesz zapłacić w ciągu 21 dni.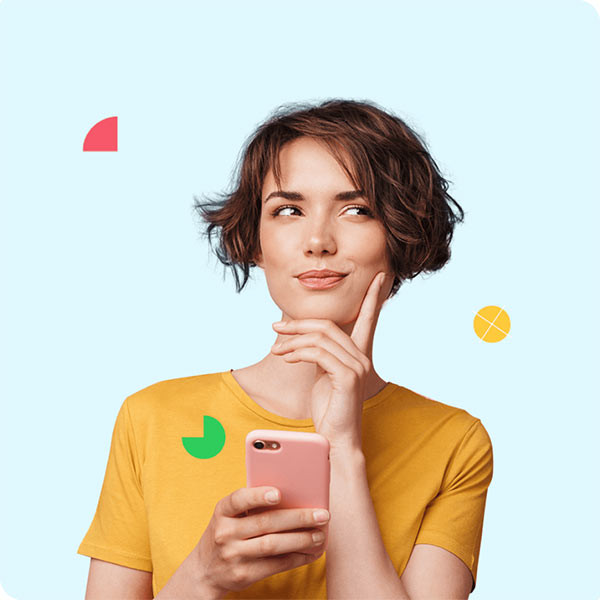 Jak skorzystać z zakupów z Twisto?
​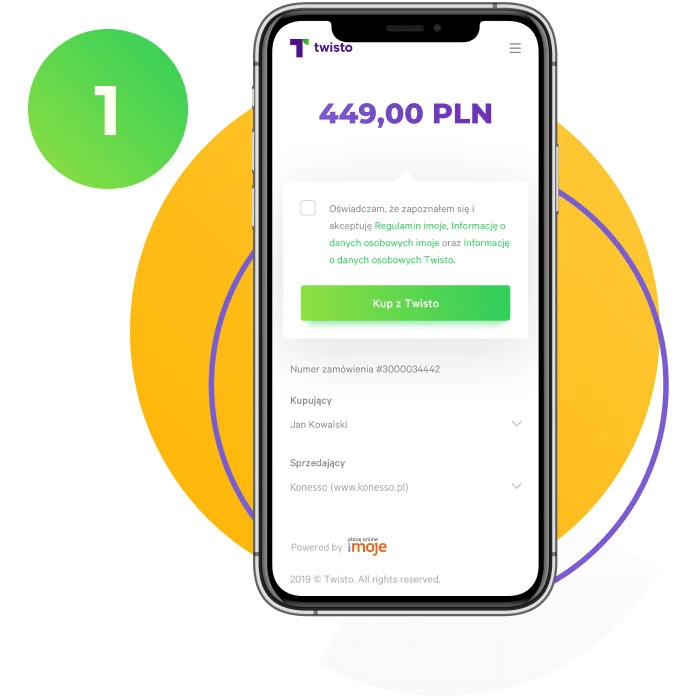 1. Skorzystaj z płatności Twisto
Po uzyskaniu pozytywnej weryfikacji, kliknij "Kup z Twisto".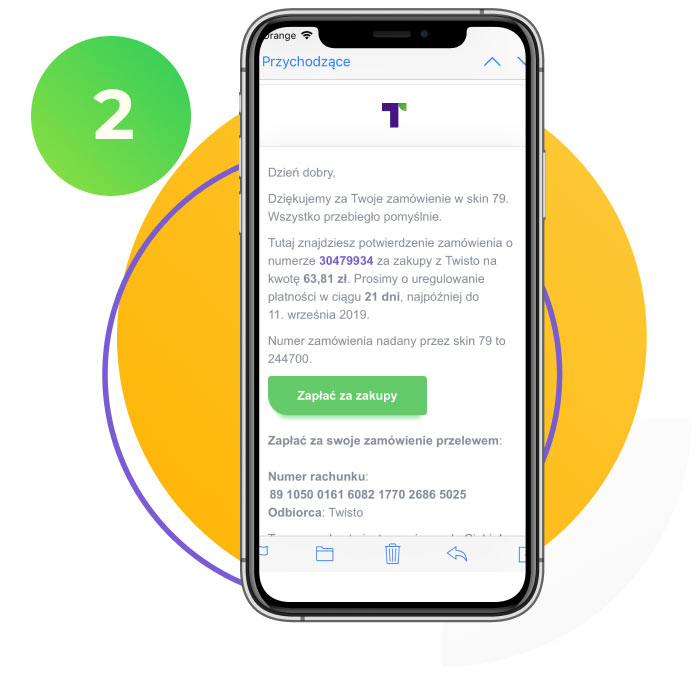 2. Odbierz maila od Twisto
Twisto zapłaci za Twoje zakupy, a dalszą instrukcję znajdziesz w swojej skrzynce mailowej.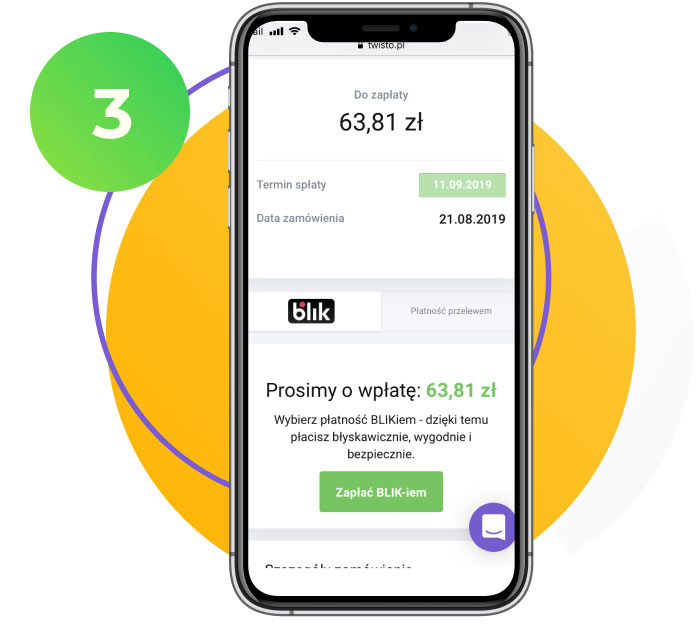 3. Masz 21 dni na płatność
Czas na opłacenie Twojego zamówienia do Twisto wynosi 21 dni.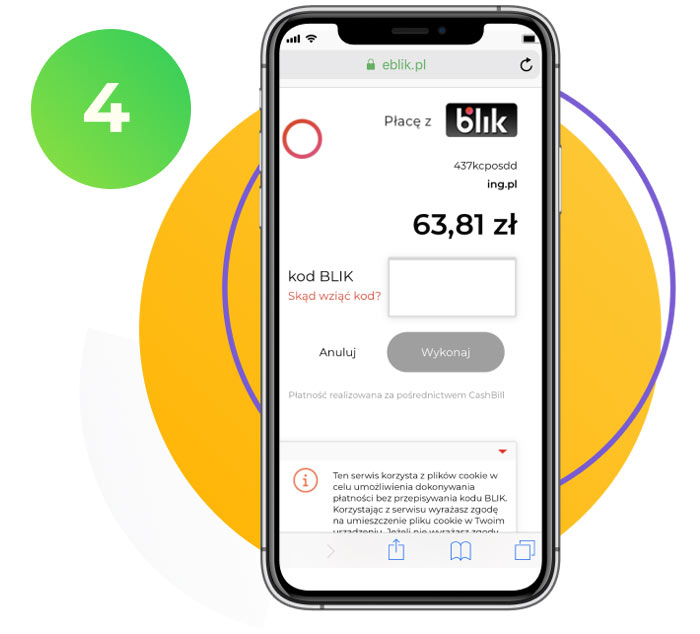 4. Wygodna spłata
Opłatę za zamówienie należy wykonać nie do sklepu, a do Twisto. Możesz zrobić to w wygodny sposób BLIKIEM lub przelewem.
Jakie są zalety zakupów z Twisto?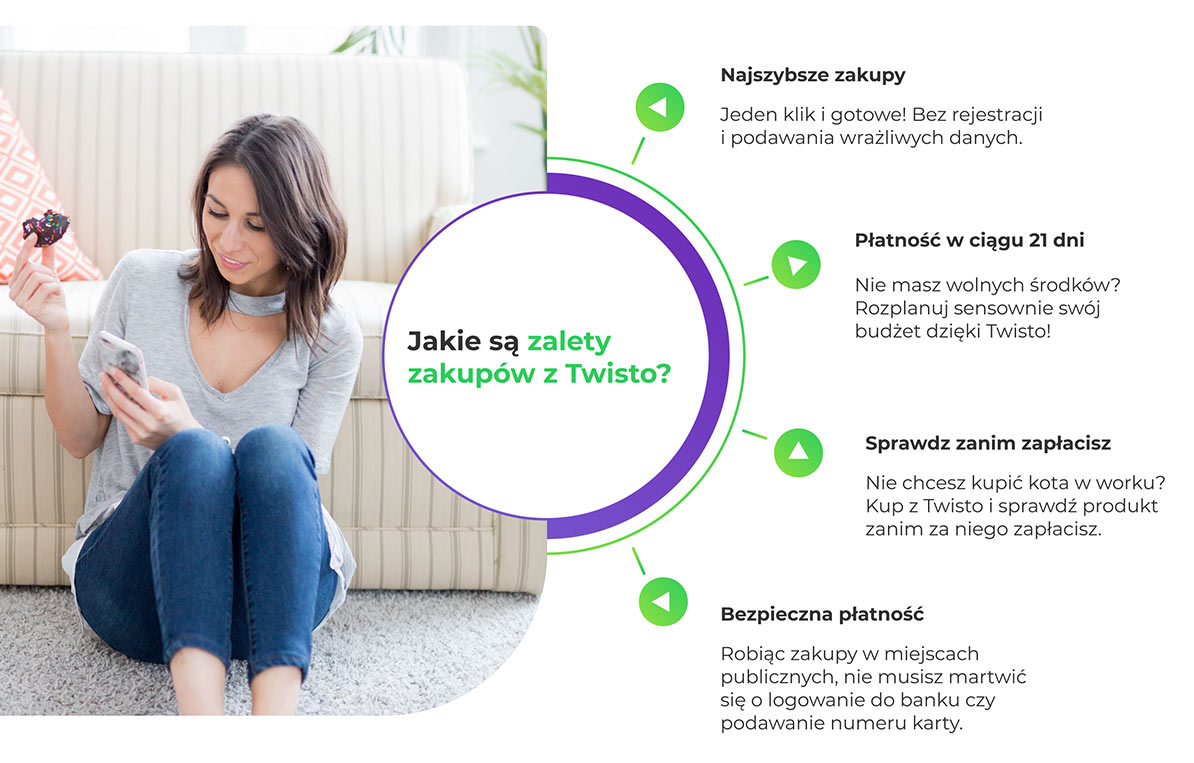 ​
Najczęściej zadawane pytania
Ile kosztuje korzystanie z Twisto?
Przez pierwsze 21 dni usługa jest darmowa, jednak jeśli zapłaty chcesz dokonać w późniejszym terminie, zostanie doliczona dodatkowa opłata za opóźnienie. Twisto informuje o zbliżającym się terminie zapłaty, a z tabelą opłat możesz zapoznać się na stronie www.twisto.pl.
Jakie dane wykorzystuje Twisto?
Twisto korzysta jedynie z danych, które należy zostawić w sklepie podczas zakupów. Na podstawie zaawansowanym technologicznie algorytmów Big Data jest w stanie określić kwotę limitu na zakupy z Twisto.
Czy mogę podać adres do pracy?
Adres inny niż adres Twojego zamieszkania możesz podać, pamiętając jednak o tym, aby był prawdziwy i podany w układzie ulica nr domu/nr mieszkania, kod pocztowy, miejscowość.
Jeśli nie mogę skorzystać z Twisto?
Jeżeli nie udało Ci się skorzystać z usługi TwistoPay, to zostaniesz automatycznie przekierowany do strony wyboru innych metod płatności. Uregulowanie poprzednich transakcji pozwoli Ci na dokonanie ponownych zakupów z Twisto.
Jak zwiększyć swój limit w Twisto?
Przy pierwszych transakcjach Twisto pomoże Ci zapłacić za zakupy na kwotę od kilkunastu do kilkuset złotych. Regularne spłacanie zobowiązań wobec Twisto sprawi, że Twoja wiarygodność wzrośnie, a limit Twoich transakcji zostanie zwiększony.
Jak wygląda proces zwrotu z Twisto?
Po przyjęciu zwrotu przez sklep, zarządzający sklepem przekaże informację o częściowym bądź całkowitym anulowaniu zamówienia do Twisto. W swojej skrzynce mailowej znajdziesz korektę zamówienia z nową kwotą do zapłaty lub z potwierdzeniem całkowitego anulowania zamówienia.