Levi's best women's sweatshirts
2021-04-21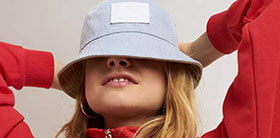 When Oskar Levi Strauss more than 150 years ago established the first company producing jeans, for which LEVI'S is known to this day, he could not have assumed that, apart from denim, the brand he founded would expand its offer not only with new, then non-existent designs, but would also use it for their production of other materials.
After all, the streetwear sweatshirt, or rather its variation called crewneck, was created only in the third decade of the 20th century, to evolve in the following decades and have a zipper or a hood, extending even more the limits of their practical use every day. Similarly, the logo on LEVI's clothes has changed over the decades, moreover, it is visible today even more than before because the characteristic "batwing" is replaced every now and then with a different logo of the US manufacturer.
The Levis sweatshirts presented below are a part of the entire, rich offer of the brand from the styles available on bludshop.com - you will find in them both classic hoodies, sweatshirts without a hood or with zippers up to the chest height. The color base is diverse, as are the prices of individual styles and patterns that will surely interest the fair sex. Here they are:
The blood-red Levi's logo attracts attention at first glance, the sweatshirt itself is an extremely plastic top for many different, but above all, loose stylizations.
Practical black color will be used in many everyday activities, such as a bicycle or a walk, this Levi's sweatshirt will be great for cooler evenings or casual Friday social evenings.
Crewneck perfectly matching, not only because of the color, to light boyfriend jeans through its cut, slightly oversized. A minimal logotype to emphasize the originality of the product and its class.
Sweatshirt type "raglan" and in addition a light crop. For ladies who like to emphasize their athletic figure, it fits perfectly with baggy pants.
Fashionable hoodie, with an extremely popular color version recently, i.e. delicate, peach pastels. An option definitely for younger girls who like simplicity combined with something unusual like a colorful Levi's sweatshirt.
Motym tied-eye - a real hit of recent months in fashion, here additionally used on one of the most desirable styles of sweatshirts at that time - with a stand-up collar, unbuttoned to the chest. Uncompromising style.
Other types of Levi's sweatshirts as well as T-shirts or caps and brand accessories at great prices can be found at bludshop.com