Organics by Alpha Industries
2021-09-15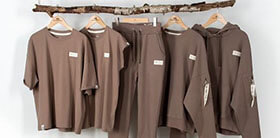 The new collection capsule from ALPHA INDUSTRIES are high-flying products that are light and pleasant at the same time like a head of cotton - the plant from which they are all made. It is an organic variety made of natural and biodegradable ingredients. The fact that each of the products available in bludshop.com are embedded in the colors of the earth emphasizes the heritage of its crops and pays tribute to the mother who there is Earth as a planet.
Fashion has always created trends, but not all of them were generally accepted by potential customers. In the era of talks about the climate, environmental protection or the reduction of plastic, however, this direction favors all residents, regardless of whether they are interested in streetwear, workwear or other styles present in the clothing industry.
If you are an eco-enthusiast or you are simply not indifferent to the fate of the planet, choose Alpha Industries sweatpants with the EMB label, which will match the brand's T-shirt or Alpha Industries sweatshirt . View all organic Alpha Industries available in this series below, select the one that perfectly reflects your nature.