POLISH STREETWEAR
2021-01-06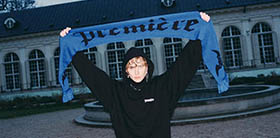 Some time ago, we informed about fresh, often just fledgling Polish clothing brands, which we select for you and enable you to be unique among your peers by wearing them. These are always mega-limited drops of top clothes, unique and for someone who is confident.
We are constantly developing this category, commonly known as Polish streetwear, which has absolutely no problems with well-known Western clothing brands. This can be seen in the boldness of some models, but also production solutions that make them unconventional. Before you, another edition of the home street fashion yard:
Oversize, extremely fashionable unisex T-shirts and sweatshirts have hit the shelves of the virtual bludshop.com magazine. Most with a colored, light-reflecting coating, with the dominant colors of the rainbow and silver in the designs. Real luxury, also when it comes to the quality of the material.
In short - girls for girls, two specifically focused on simple patterns of sweatshirts and t-shirts in many color variants, mainly pastels. Brand logo on the front, unique graphics on the back. For the winter, a quick drop of winter beanies.
PREMIERE SOCIETY
For now, closely follow our accounts on INSTAGRAM and FB and subscribe to the newsletter to find out what patterns we have chosen for you from the offer of the Polish brand that uses absolutely world-quality materials for the production of sweatshirts, tees. Any moment in bludshop.