Top 5 shirts for the summer
2020-07-24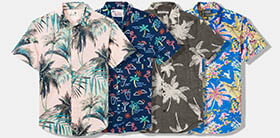 The prototype of the shirt is a type of tunic used by nomadic tribes inhabiting the areas of Central Asia, although something like a shirt was also seen in the Middle East from where under the name "camisia" it came under the thatched roofs of houses embedded in the Romanesque culture. The T-shaped cut was quickly adopted by the medieval community and the shirt itself was made from a single block of previously woven cloth. After this period, the aristocracy over the following centuries elevated the shirt to the rank of a prestigious element of clothing, which can be seen in the paintings from that period.
The following years saw the introduction of improvements and gender distinctions in the shirt, also changing its cuts or lengths, as well as its next version enriched with jabot or puffed sleeves. Instead of linen, silk and golden accents began to appear, which intensified the impression of exclusive clothing, reserved for a fairly narrow group of recipients. In the nineteenth century, the style known to us basically normalized, the differences mainly occurred in collars, which in one year were wider, in subsequent years narrower and more pointed.
Military and sports shirts are additionally enriched with epaulets and pockets at the chest height, thus emphasizing that the shirt does not have to be just an official, business outfit element. Shirt It was gaining more and more fans, it was part of the scouts 'and scouts' clothes, but also uniformed services and, interestingly, people playing bowling. Fans of this sport were distinguished by, for example, colors, which distinguished them from competing teams and, over time, changed the entire shirt market.
All thanks to the 70s of the last century, when uniform patterns were replaced with patterned materials, various types of prints, thanks to which they gained a casual, carefree character. Another turning point was the presentation of the short-sleeved shirt.
Here are the top 5 of these shirts available on bludshop.com