Top 6 bucket hats for fall
2021-10-13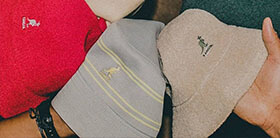 The bucket hat is one of the most fashionable accessories that stormed most spring and summer stylizations. Although this specific headgear is associated mainly with warm months, when in addition to the fashion function it also fulfills the practical function, protects against excess sunlight, also in autumn, with appropriate material modifications, it can be successfully used at this time.
It was originally invented as a hat for fishermen and dockworkers to protect hard-working workers from the rain. Currently, with positive temperatures and increased rainfall, it will be perfect as a complement or a leading component of the style. Provided, of course, that it will be made of recently sought-after fabrics and materials such as corduroy, fleece or fur, in a vegan or eco version.
Below you can take a look at the bucket hat models and colors selected by us, which we are betting on the current season's sales favorites. Here is a list of the TOP 6 available at bludshop.com bucket hat in terms of streetwear signed by brands such as Carhartt WIP , Kangol , Levi's , HUF , Vans or Fila .