Top Ellesse T-shirts
2021-09-01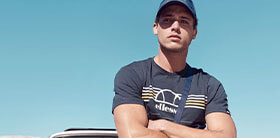 It's hard not to like what Italy has given the world and has shown quite a lot apart from pizza and pasta. The Roman Empire laid the foundations for our civilization, the excitement expressed by expressive gestures is difficult to see in other parts of the world, just as nowhere does defensive football enjoy the fans' eyes as it is on the Apennine Peninsula.
The one in the shape of a shoe was also marked with golden letters thanks to clothing brands, which, deeply rooted in sports style, were gradually gaining popularity in other parts of the world. Among them, the most recognizable are FILA and KAPPA, but they are in no way inferior to them, founded in 1959 by Leonard Servadio - ELLESSE .
The relationship with sport is strong not only due to the cuts of individual clothes, their functional character, but most of all the characteristic logotype which is the cross-section of a tennis ball. You can see it perfectly on all products Ellesse , is it Ellesse sweatshirts or Ellesse jackets . Ellesse Cap also includes these, both in the winter beanie and in the crap hat.
Today, however, we decided to present you top designs Ellesse T-shirts , our We focused on the patterns embedded in the colors of white and black. Here are the best of the best t-shirts from the brand - you can buy all of them for a moment 30% cheaper. Taking into account the quality to price ratio, it is difficult to find an equally attractive product than those from the Ellesse brand. So go ahead and go shopping at bludshop.com
As we mentioned at the beginning, the brand's offer is extremely wide, so it is worth choosing one of the hats for the selected T-shirt bucket hat or a sachet for small items, especially since they are now they at super attractive prices.