Top sweatshirts without a hood
2021-10-27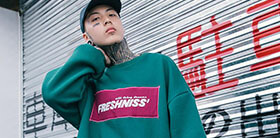 In recent years, the popular hoodies have definitely dominated the streetwear market around the world. They pushed the hoodless sweatshirts, the so-called crewneck that are just exploring and returning to their rightful place.
They were the prototype of all cotton sweatshirts, thanks to Russell Athletic, which established and introduced this style to the market almost a century ago. Since then, every clothing brand has offered them, in a way paying tribute to this iconic pattern in individual collections. Thinking about you, we have prepared some of the most interesting proposals among those available at https://bludshop.com including such giants as THE NORTH FACE , ALPHA INDUSTRIES a >, ADIDAS ORIGINALS , CHAMPION , THRASHER or THE HUNDREDS !
We have selected a few crewnecks for you, differing not only in logos but also in the weight of fabrics, accessories, some of them have embroidered and others are screen printed applications. Everyone will find something for themselves and thus emphasize their unique aura.