Top women's brand styles.
2021-08-25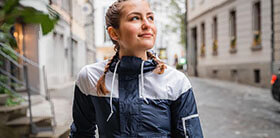 We are in the middle of a nightmare week, full of temperature drops, strong gusts of wind and, above all, heavy rainfall. So it's time to clean up the wardrobe and fill in the gaps in the wardrobe dedicated to autumn.
All ladies are helped in their purchase by the brand COLUMBIA , whose offer of outerwear, dedicated to this period is really large and multidimensional. As part of it, you can easily equip girls with warm fleece sweatshirts, jackets made of a warm "bear", and finally raincoats, windbreakers and coats that look great apart from functionality.
Below, we have put together a few patterns and color versions that will work great both in September and in the following, increasingly colder months. The palette of colors offered by the above-mentioned brand allows you to combine them with other garments or cross them with almost no restrictions.
Below are the best women's streetwear jackets, coats, anoraks and windbreakers from COLUMBIA and several words about them:
Down jacket in a shorter version for even greater emphasis of the slender waist, and in a subdued, ideally suited to the autumn or winter weather.
A warm sweatshirt, perfect for the transitional season, with a practical pocket for a card or documents. Practical black decorated with contrasting elements in the form of a zipper and the material used to make it.
All shades of "dirty" white, and therefore the color of this coat, will surely reign on the streets in the last months and at the beginning of next year. If you want to have it at home, it is worth considering buying this extremely pleasant garment today.
Extremely warm and pleasant to wear, open to the neckline, two-color Columbia fleece will be perfect for outerwear in the first weeks of autumn, in winter it is enough to wear one of the brand's anti-rain coats and we have a high level of protection against cold and rain.
The practical, one-color Columbia jacket made of a fashionable crepe will cope with the challenges of autumn without any problems. It is worth investing in it, the more that its price is very bargain at this point.
Made of cotton and polyester fleece in fashionable shades of ecru, half-zipper, additionally enriched with a hidden zipped pocket on the front. One of the must-see items this fall.