new brand in bludshop!
2020-05-22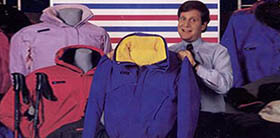 At the confluence of two rivers - the local Willamete and the national Columbia - German immigrants hiding in this area from the Nazi rule bought out majority shares in the Portland Cap Factory. A year later, the company called the Columbia Hat Company was in the hands of Paul Lamfrom and completely changed the fate of the family business.
A decade after her appointment, thanks to the marriage of the owner's daughter, Neal Boyle became its new manager, but it was the project of his wife - vests for fish hunters that changed not only the company name to the Columbia Sportswear Company but also its profile. A decade later, in 1970, after the death of the head of the family, business responsibilities fell on Gera Boyle and their son Tim, who saved her from bankruptcy and also brought her to a new track.
Physical activity of the family, spending time outdoors, in the immediate vicinity of the company's headquarters, where there were excellent conditions for it, also influenced the development of the brand, whose outdoor equipment became the axis of business in the next two decades. However, for the company to be able to produce and grow and, as a consequence, sell more, it had to have a product that achieved significant success. For Columbia, such icons were:
a Buggaboo jacket released in 1986 that revolutionized the thinking about the shape of ski clothing
a separate collection of clothes only for fishermen, strictly personalized for them.
The next ones were already attended by technology that gave a number of new production possibilities in the sphere of thermo-insulation, i.e. releasing air outside, while maintaining the right body temperature of the user and taking care of the dry layers of his clothes.
It helped to develop the company further, constantly expanding its range, not only by subsequent pieces of clothing, but also footwear, noting better and better financial results as well as building global awareness about the brand in general. Sponsorship agreements for the supply of equipment to the US, Canada or Russia for the Winter Olympic Games in Sochi and PyeongChang are an eloquent example of this.
Today, Columbia Sportswear Company is an institution, a company producing sportswear, outerwear and footwear with such intended use, in addition, headgear, camping equipment, ski clothing and various practical accessories.
At bludshop.com , we welcomed the next designs in the lifestyle line with a smile, full and definitely a richer offer will be available to us this fall. Until then, take a look at the brand's t-shirts and sweatshirts.