the largest running events in history.
2019-10-28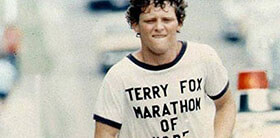 The eyes of the whole world, certainly those interested in sport and in particular running were directed on October 12 this year. to Vienna, where Eliud Kipchoge faced the challenge of covering a marathon distance of less than two hours.
As we know, he managed it, mainly thanks to the appropriate training but also the sponsors at the head of INEOS [chemical industry tycoon], who organized the entire event and Nike responsible for sports equipment.
This enormous feat was compared by many to the highest mountain peak in the world that two climbers did: Sir Edmund Percival Hillary and Tenzig Norgay. In 1953 they climbed Mount Everest. We, seeing a Kenyan rushing with an average of 2:50 per kilometer, recalled other running events, proving that the human body has almost unlimited possibilities of development and crossing borders. Hence the following list of such moments in the history of history.
PAVVO NURMI – IO PARYŻ – 1924
To this day, Finns hold the title of the most titled athlete of the Olympic Games. During three starts he collected 12 medals in them. In the capital of France, almost a century ago, he won the 5 most valuable discs in three different disciplines, by the way breaking Olympic records in two of them in just 26 minutes.
TERRY FOX – MARATHON OF HOPE – 1980
The story of a boy forced to give up his dream of working as a physical education teacher due to amputation of the leg, which pushed him to pay attention to the problem of cancer through participation in a running project. He assumed defeating all of Canada from the east to the west coast on his own. Despite the failure of the "Marathon of Hope" due to emerging metastases, Terry inspired millions of people to make effort for others even despite their own limitations.
DEAN KARNAZES – ENDURANCE 50 – 2006
Another ultra challenge showing the power hidden in the human body. In 2006, the above-mentioned declared that he would run 50 marathons, in 50 different states, in 50 days. The American accomplished this by finishing during one of the largest royal races in the world, namely the New York Marathon. The history of this event was described in Dean's book "Ultramaratończyk. Beyond the limits of endurance ", which opened many people's eyes to ultra runs and various types of tests of their own boundaries connected with it.
ROGER BANNISTER – MILE UNDER 4 MINUTES – 1954
More than half a century ago, the British ran as the first man in history, the mile distance [1609 m] ran under 4 minutes. This demonstration of strength shown by Bannister was a source of inspiration for subsequent generations of medium distance runners and was an inspiration for other athletes to work hard on something that seemed previously unattainable.